Blog
[Editor's note: To expand the content available in the blog, we're going to begin posting updates written by Omar Abdullah, based on conversation he has with Iraqis in Baghdad about the situation there, as well as posting interesting articles written in Arabic, that we've translated to English. Please let us know what you think about this new work.]
I have some new updates coming from Baghdad and on the top of those updates is the new security plan that 90% of Iraqis have admitted is a lost mission and a new shame for the new Iraq government. So many dead bodies are found everyday in Baghdad streets and in huge numbers. Most of them are regular people, not related to any political party or working with Iraq police or the Iraqi national guards, just regular people whom they lived there entire life in peace with no problem of getting killed or kidnapped by one of the militias.
Now in Baghdad there are more problems then getting killed or kidnapped and one of those most important problems is the water and the electricity. The Iraqi people are tired of getting those promises from their government about fixing the electricity every month and official man comes on Al-Iraqiyah satellite channel and give a statement about fixing the power problem forever and everything is still the same, nothing has changed. ,
Things are just getting worse, according to one of our correspondents Basheer Rasheed, who said "The power did not show up in my area for over a week and it came once last week for one hour only, it was barely enough to refill the water tanks we have in the house and god knows how we are going to fix this problem. The Iraqi government is so busy with the security problem and building new security walls like the one around Adhamiya, and it's proved they failed to fix the security problem in Iraq for more than 5 years and I wonder when are they really going to fix it, instead of watching us die day after day? I don't know how much the population of Iraq will be in 2009, and god only knows who would stay alive till that day to check the number of how many Iraqis left in Iraq to rebuild it. Ok let say they fix the power and the water along with everything, how are they going fix the trust among the Iraq people for the next years?"
And this question is going in my mind too, how are they going to fix the trust among the Iraq people-Sunni killing Shi'ite and Shi'ites killing Sunni? So many car bombed bridges might be blown up at any second and even there is a joke in Iraq street that says "Don't cross a bridge or you will go back swimming." Most of the Iraqis are afraid now from using the bridges and I asked a guy who lives in Karrada, who refused to say his name, about the power there and he told me, "The power dose not show up in here at all but we see the Green Zone from here has power all the time, and we are just living across the bridge from them and we don't have power. Only just once a week, and sometimes twice a week so how are they going to fix a whole country while they can't fix a small problem like power but they can provide the power for the green zone 24/7?! Why is this happening to us? They are supposed to let us live, not to kill us inside our own houses with their heavy guns or by cutting the power off for the whole day, and they don't care if we lived or died!"
I hope that one day all of these words become history and Iraq becomes a place for a good life, instead of getting killed.
By
Omar Abdullah

[Editor's note: This piece originally appeared on the Iraq Rabita site. We are considering providing Kamal Jubouri's articles in English for our readers, we'd love your feedback about whether you find them interesting or insightful. This piece, which is a little dated, is about an important bridge that was recently destroyed in Baghdad.]
Some eyewitnesses reported that the explosion was very huge and caused four cars to fall into the Tigris witch were passing over the bridge. The river-police were trying to rescue people from those cars.
Our correspondent spoke with a policemen who confirmed that 12 people get killed and 30 injuries as well as sounds of the explosion were reported as being heard across Baghdad.
The Al-Sarrafya Bridge, located in the heart of Baghdad, is one of the oldest and most famous bridges in the capital. This bridge makes easy to reach to Baghdad University, Al-Mistensirya University, medical city, and Al-Karkh republican hospital as it connects the Al-a'atefya region and Al-Sarrafya.
—-
Another eyewitness reported says as follows:
I distressed today in the early morning as every Iraqi nobleman were distressed with this criminal accident, this time the target was (Al-Sarrafya bridge)… this, leads to collapse a big part of the bridge, and to say nothing about the human damage left behind among killed, wounded, and shocked.
I'm not here to tell a story as what press news were reporting it with passion but I would like to mention on some points leaving the comment on this subject to you:
1 - The time of the explosion and its harshness and the way of it doesn't goes too far from the explosion of the sepulcher of the two Imams (Samara'a explosion).

2 - Not a human being can deny the supposition that the operation of the bridge was done after the curfew end, and every eyewitnesses assured that the explosion done in a smart way that's needed along time of work.

3 - The explosion was very huge and heard in all of Baghdad, and that is a sign of the huge amount of squib material that used in it and its type that used in this explosion (remember Samara'a explosion), to know that the explosion happened after less than 24 hour from the American occupation forces show a new Iranian weapons found in Iraq.

4 - Where were the coterie of Baratha temple and what surround it from death squids, the sectarianism, and the ING's?

5 - As Samara'a… AL-Sarafya bridge is an strategic bridge that serve all Iraqi people without any special sect because its connect many and common areas, and there is no profit to any sect to do such thing.

6 - The current political circumstances is too strained, government disagreement, AL-Sadir forces threatening to withdraw from the Government, splitting in coalition, storm disagreement with the proximity country…it is the same circumstances that happened before Samara'a explosion.
By
Kamal Al-Jubouri
[Editor's note: This is a new entry by Ausama, a young Iraqi who was living in Baghdad but who has fled with his family to the Kurdish region, due to the escalating violence. You may remember his earlier posts some months back. Ausama was previously involved with a project now known as Hometown Baghdad, by Chat the Planet.]
Now suddenly, for the first time in 4 years , as it appears the American government starts to pay a real attention for the situation in Iraq, a lot of debate about the future and about the strategies and what's so on …
A lot of question just pops into my mind, like why now? Do the American people know what's really going on here on the ground? And the 2 most important questions are, how much is the US government serious this time and do they really know what's going on and who's really responsible for what's been going on in Iraq for the past 4 years?
I know those questions might sound a little bit more as critiques than questions, but seriously they're not, they're real questions , although I try to answer some of them my self , but I always find my self on a dead end .
I'll try to answer some of these questions and let's start by "why now?" did they realized that it has been 4 years since they came and nothing good yet happened? Or
Is it all just another Battle for the American upcoming Elections and as we used for the presidential Battle, each faction in the states would do the impossible to win and in this case I think Iraq is being a tool for those politicians.
"Do the American people know about the truth?" A lot of them know about 30 % of what's really going on, and those definitely didn't know through the ordinary Medias
But the larger faction of the American people know the least of what's going on and they're not to be blamed since there are two main reasons, the first one is that they believe what's the CNN or Fox been telling them, the second one which is related to the first one, that they are Americans, they carry the same identity so they definitely should stand beside their army even if they know their army is making a lot of mistakes.
I'm not here to blame the American people , and to be honest , I'm not here to blame the army as well , since a lot of soldiers are just doing what they've been told to do !
But of course everything happened so far is caused by the American stakeholders inside the white house.
If it's not about the upcoming elections, then what it is for? Why the sudden care?
I have 2 theories now and each one of those has a big questions mark above it
The first one : It's either the American policy in Iraq is going somewhere on a straight line and everything now happening is some tactics and by that I should try to illustrate why and how things are getting worse in Iraq if the plan is perfect why didn't they made from Iraq a better place from the beginning ? Why to bring Iraq into a possible civil war?!
If it is all planned then why did they destroyed the infra structure of Iraq? And why did they hurt a lot of people and why did they build a sectarian political view?
My explanation for that which is some how is mostly sounds as conspiracy theory
They might want Iraq to suffer from Civil war and from destruction so that they would make Iraq the only courtyard for terrorism.
A lot of the Iraqi people also think that there's a secret plan to destroy the Iraqi community and to deplete the country from the intellectuals to ruin any plan or chance to re-establish the infra structure of the country.
Which is of course would be something not far from the truth, since that situation would give the American forces the right to stay longer and to deplete the country from its own natural resources.
Or to be little bit optimistic ( after giving a dark theory , huh ! ) and say may be they want us to suffer so that we reject violence in the future and by that , it would be better for them since Iraqis are going to be devastated and will be tired of even thinking about using force against the Americans.
Given the current entries, I think this optimistic is to be a Naïve thought!
And wrong if the Americans ever thought of that.
The second theory says that the American government and the American stakeholders don't know what they're doing in Iraq and they're in a hell of a big dilemma and trouble.
It also says that they don't know what to do, if they're going to keep their forces on the ground, they might lose many and give many.
In the same time, they're obligated to stay in Iraq because it's their reputation and their official standpoint of the war on terrorism that they should keep.
So if they're going to leave they'll be definitely the losers and It would look like they did nothing but destroyed a country.
But to be honest I don't really believe the 2nd theory , I always intend to think that all of what's going on is temporary and someday day all of what's happening in my country would suddenly stop and it's what I wish and I think it's what both the Americans and Iraqis want.
Anyway , I don't know what are their true intentions , but I feel it's my duty to reveal some of what's happening on the ground now in Iraq .
What's happening now, that intellectuals of doctors, lawyers, managers… all the good people are either getting threats to leave the country or getting kidnapped and killed and either ways all are leaving the country.
By who and for what reason? Those are questions where each one tries to accuse the other of the responsibility, but I say whoever is doing it, it all goes in the good of the illiterates and it's all following a specific pattern.
It's getting worse everyday and harder to live anything even close to normal in the country, because of bombed cars, explosives (although those 2 are the least to be afraid from now) since the worse is to be caught by a fake checkpoint of some militia and most of those militias are al mehdi militia (I'm not trying to accuse anyone) but it's well known.
Of course it never end here, it got so clear that whatever to be called (the government) is a sectarian one, and unfortunately the current Iraqis government is responsible for many sectarian based problems in most of the institutions.
On the other hand, no body would ever feel safe by the presence of the American forces around since they arrest and hold the young people and kill "by mistake" sometimes.
Finally, I just want to ask, whose fault is it, that my friend's father had to pay for? Why did he die? Who's responsible for that?
Is it his mistake to go into a regular market and try to buy a nice book when a bombed car exploded?
Or why my uncle (and he's a respectable American graduate mathematic) is being held in the American prisons here in Basra in Iraq.
For what we know so far about him, nearly nothing, neither why was he "abducted"!
That's it for now, hopefully this new Law Enforcement plan would work and hopefully they're serious enough this time to end up what they started!
American forces in Iraq are still far short of the military deployment the United States had in Vietnam. U.S. troop numbers in Vietnam increased from less than 20,000 in early 1964 to more than half a million by 1969. But the difference between the force levels – and the two situations — is a lot less than most people think. There is, after all, not just one U.S. army in Iraq.
The previous quote is meant to provide a better understanding concerning the "allied" forces currently in Iraq.
Today, January 23rd, General Petraeus is being questioned by the Senate Armed Forces Committee on how he will direct the pending operations in Iraq, including the "surge" called for by President Bush.
General Petraues was expected to discuss the importance of private Iraqi and foreign contractors in ensuring the success of the surge. Read this article in Bloomberg, published prior to the beginning of the hearing, and this piece by Thomas Ricks, author of Fiasco and a reporter who has been covering the Pentagon and military issues for some twenty years, for background leading up to today's hearing.
You can also follow the hearings live via CNN Pipeline #3
What's interesting about these hearings is that on multiple occasions during the hearings General Petraeus has acknowledged that private security contractors may be necessary to ensure the success of the surge.
By his own admission, Petraeus confesses it could take 120,000 troops to secure Baghdad, although there are just over 80,000 available for Baghdad if one includes both MNF-I and Iraqi military forces.
This suggests that 40,000, or one third of the force necessary to secure Baghdad will be private contractors, who have as of yet never been held to any legal standard for crimes committed in the Iraq theatre.
Petraeus even acknowledged that his own security, when he returns to the field, may be ensured, not by US military forces, but by private security contractors, as has happened on his previous tours.
Perhaps it should offer some solace that,
A little noted clause in the 2007 Defense Bill, enacted last October, placed contractors under the Uniform Code of Military Justice, the military laws that govern the U.S. armed forces.
To learn more about our current forces in Iraq, follow the link in the quotes.
Although it seems assured that General Petraeus will be confirmed, it reamins to be seen how Democrats and the rest of the Senate might respond, if at all, to depending on private security contractors, who's allegiances and even names are currently difficult, if not impossible to determine currently.
The whole thing was a big mistake
Written: Monday January the 1st 2007 2:30 AM
I was in my bed trying to get some sleep… the moon was complete at that night… I heard a sounds of gun firing then a sound of a bomb… usually I ignore it cause here in Iraq we used to hear these kinds of sounds… anyway… after a little while… I heard sounds of the American's forces passing through my neighborhood… from those sounds I sensed that they were a lot… and I expected there is some breakthrough in our neighborhood… then the choppers came and things started to get worse… choppers were flying over us… all my family awakened… and we sat in one room praying from the God to keep us safe till the morning… we were hearing the sounds of the choppers when its flying over us with low height… and the big engage started… the choppers were firing with its machinegun on Salih Al-mutlak house and so the Humvees… the battle began around from 2:45 AM to 6:45 AM… all that time we were hearing sounds of explosions and gun firing… then the calm has came…
I woke up in the next day at 11:00 AM because I couldn't sleep all the night… I went out to see what had happened yesterday… I met my neighbor and we headed to the place of salih al mutlak… his house was completely destroyed. people were taking out the trash…
I drew a map explaining with all what happened… it begins firstly from Salih's Guards… those Guards were thinking that there is some militia were attacking them so they throw a grenade on the U.S. forces… actually the U.S. forces were only patrolling… that's the whole story… all of what happened was a misunderstanding from both side… but lets see what the Americans did to the neighborhood.
(click for larger version)
House #1:
This house belong to Salih Al-mutlak… there was 5 guards in the house… 2 of them escaped in the head of Sallam's house… one of them killed… the rest 3 escaped to house Num 4… one of them died by a grenade thrown by the U.S. Forces… House Num 1 was completely destroyed… it had been attacked by 4 missiles from the choppers + the gun firing from the machine guns.
House #2:
This house is the Salih Al-mutlak next door… the main door and the wall was destroyed and there were no injury.
House #3:
It is a building on the main street… the second floor was a store and it had been burned because of the gun firing.
House #4:
It is the house where the 3 guards were hiding in its garden… the U.S. forces throw a grenade and kill one of the guards.
House #5:
This house is belong to a poor family… through the battle… one of them get injured… so the rest of the family went outside the house to call for help… when they are outside the house and exactly at the main door… the U.S. forces shoot the family… four of them were killed (the father, his two sons, his daughter)… the injured one died after awhile…
House #6:
This house belongs to Christian family… the father is aged 80 living with his son… (after they destroyed Salih Al-mutlak House… the U.S. forces begin the second attack on Guards of Sallama)… the tank entered house num 6 by destroying the gate and its wall… the 80 aged man was calling them to stop but they didn't listen to him… they took out his cloth + his son both remained outside in cold weather … and the U.S. forces stole the house… (They stole a big mount of money + laptop + camera + some other stuff)
House #7:
This house was empty… but the guards of Sallama were using it… U.S. forces entered this house and explode its door and they shoot every room in it.
House #8:
The house of Sallama… She is a V.I.P but she is not at the house… she put her guards and blocking the roads… that's it… (I couldn't get info about this house because of the Guards)
House #9:
The American destroys the main gate by a bomb… and entered in its garden only… (The car of this house was destroyed too)
House #10:
This house was also has a gun firing by the chopper… we can see the wholes that made by the choppers on the walls of the house and on the street. (The car was destroyed too).
On November 17th, I traveled to Oaxaca with an associate of mine (who will now be referred to as W), to catch up with my partner (who will now be referred to as A) who was already in Mexico. We came to establish a similar project to Alive in Baghdad, known as Alive in Mexico.
We are on tourist visas, but according to Mexican law, are allowed to shoot video and work as a documentary crew on this visa, in fact this is apparently the only visa available to documentary crews, the press visa is specifically for working affiliated press.
We had been here meeting with local Mexicans about producing video for Alive in Mexico and working with us, as well as documenting some of the events happening here. We have been present at various marches, including a march for Women's rights on the 19th, and other marches on the 20th and 25th. We also visited Radio Universidad on multiple occasions and the nearby Cinco Senores barricade. This was all in order to make contacts and better understand the social movement happening in Oaxaca.
After the 25th when most, if not all, of the other independent journalists, documentary filmmakers, etc, from other countries began to leave town, we changed hotels and kept a low profile. On the 3rd of December we were out doing some shopping with W who had a plane back to the US today, on December 4th.
At approximately 2:15-2:30pm probably a half dozen to dozen Municipal Police showed up and detained us. We were given no answers as to why we were being detained, and were only told that we were being taken to the Municipal Station on Morelos Ave in downtown Oaxaca.
When we arrived we were still not informed about why we were detained, and although we repeatedly asked to speak with our Consular, we were denied this repeatedly. After they took down our names and ages repeatedly (I believe 2 or 3 times at this point) we were separated along gender lines. A was placed in another part of the station, and W and myself were taken to a room that had the appearance of being a small gym for the Police Station, but was empty of everything save some trophies on a high shelf and a television.
After some time a man came into question us, we were still not informed of what we had done, and told that we did not have the right to speak to our Consular - technically the law seems to state that the Mexican Police have 72 hours to contact the American Consular.
Previous to the questioning beginning, we were able to make a number of phone calls, to a local friend who found us a lawyer, and to some friends and relatives back in the US. This led to them calling the American Embassy and eventually getting the Consular to arrive at the police station, some 2 or 3 hours after we arrived.
We were asked typical question such as: Why were we in Oaxaca? What type of visa's do you have? etc. But also strange questions such as: Why were you living at the Radio Universidad? What is your relationship with Doctor Berta? (Doctor Berta is one of the lead activists in the current form of the social movement in Oaxaca and has been a very public critic, primarily via the University Radio station, of the current regime in Oaxaca), and a number of other questions, primarily about our work, and why we were at the University, etc.
Eventually we were brought before a man who was apparently the magistrate for the station, and were told we had been charged with what is essentially the Oaxacan version of "Disturbing the Peace," I believe it is article 13, 4a, under the Oaxacan municipal laws. This charge was that we had been detained while disturbing the peace, harassing locals, and saying very bad words to them.
This is absurd considering that only one of us is anywhere near fluent in Spanish, and W speaks almost no Spanish. It is also absurd considering that we were sitting in Domino's Pizza in downtown Oaxaca when we were detained.
We were eventually released on a 300 pesos fine each. Our personal items were returned, except for our cell phones, which had been taken while we were being held and awaiting the magistrate. No explanation has yet been given as to why our phones were taken, or if we were indeed charged only with this disturbing the peace law. We have not yet had our phones returned.
I was released last, because I had not been carrying my passport at the time of detention. I was released at approximately 6:15. At around 7:30 or 8, we received a call from the lobby of our hotel, where we returned after I was released. The attendant at the desk informed us that the police had come to take us back to the station, in order to identify our phones. We told them we were already planning to go to the station in the morning. During this time, there were two unmarked white pickup trucks outside the hotel, which left promptly after we told them we were not coming with them at that time.
A short while after this, we decided to contact our lawyer and go back to the station to investigate the issue of the phones. A and W met our lawyer and went to the station, while I remained at the hotel.
When they arrived they were informed that no one had come to our hotel to the police's knowledge, and that certainly our phones were not available because, as they told us before we left the first time, they were locked up and could not be accessed until the morning.
Even now we still have no idea who came to our hotel, and were not able to confirm with the attendant on duty if the man or men who came to the lobby were uniformed police, nor what unit they said they represented.
W flew home today on his scheduled flight and A and I have left Oaxaca City, out of fear for our safety. Given the climate currently in Oaxaca City, we deemed it was best to leave for a few days, collect ourselves, and decide how to next proceed.
Still Alive (& Free) in Mexico,
Brian Conley
Hello all, as some of you may know, I am in Mexico starting a parallel project to Alive in Baghdad, called Alive in Mexico. Last night I uploaded the first video from Mexico, which can be viewed here: Alive in Mexico on Blip.tv. Soon our new website, www.aliveinmexico.org will be fully functional, so stay tuned! You can also watch the video below in this post!
According to Wikipedia, A zócalo is a central town square or plaza, usually located in Mexican cities. The most famous Zócalo is that of Mexico City, which is formally known as the Plaza de la Constitución, The government district of Mexico City is known after this. Zócalos were often the original central squares of Mesoamerican cities that were coopted by the Spanish conquerors.
In Oaxaca Mexico, after a pitched battle with demonstrators who had occupied the Zocalo for months, Mexico's Federal Preventive Police, or PFP, occupied Oaxaca's Zocalo.
In this video you will see what the Zocalo looks like today, currently occupied by perhaps one or two thousand members of this federal police force.
Alive in Mexico is a project started by the founders of Alive in Baghdad, and is entirely viewer funded. Please consider making a generous donation to support this work. 
it's now been almost a week since the vloggies, which is the equivalent of a few months on the internet. Regardless, we hope you don't mind as we take some time out to thank everybody who have helped make all of this possible. We've come a long way over the past couple of months and without the help of these people we wouldn't be where we are today.
First off, thank you to all of our loved ones whom have put up with us as we tirelessly work to keep this project going. Thanks to Jay Dedman and Michael Verdi who came on board over the summer to help us get the project moving at a steady pace. Thanks to Irina Slutsky who helped make sure we were actually able to be present at the Vloggies and to the Hat Factory for letting us crash on your couches. Thanks to everyone who voted for us in the viewers choice categories, we brought home "Best Group" and "Most Controversial" for all of your hard work. Thanks to the judges who awarded us "Best Vlog", "Best Interview Vlog", "Best Political Vlog" and "Best Group Vlog", with decisions across the board. It's great to know people are really paying attention. Most importantly though, thanks to our guys in Iraq who continue to do such incredible work.
Congratulations to all the winners, it was a real honor to be among so many other talented people doing such innovative work. If you were unable to make it out to the event, you can check out coverage of the vloggies over at Geek Entertainment TV, in it you'll find Brian's acceptance speech and a general feel for the event. Be sure to watch BeetTV for an interview Brian about how AiB first got started and also Chuck Cirino's Weird TV for a lot of interviews with the different video bloggers who made it out to San Francisco.
We would have made this thank you post sooner had we actually been able to get off the phone, out of meetings, or actually have a flight that landed/took off when it said it would.
Today Brad Will was killed in Oaxaca City Mexico. The exact details are still somewhat sketchy. Apparently he was killed at the Santa Lucia Barricade. Whether he was killed by government agents, federales, local police, or some kind of PRI militia remains to be seen.
Brad travelled much of South America in his 36 years and was dedicated to publicizing Peoples' struggles in the Global South. Brad was also an independent journalist and a strong voice for independent media.
I was shocked today to hear that he was killed in Oaxaca, where I plan to be heading in the next few weeks.
I'll miss him greatly.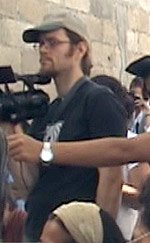 Here is the best story I've read, so far, about Brad.
Thank you Al Giordano.
[Editor's note: Because of the tense situation in Ramadi, it is taking Qasem some time to type up his entire story and send it via email. Rest assured, the whole story will be published in time.]
I woke up when I heard a sound entering my ears ….it was,
"Hey you, English man, wake up …come on wake up now …now …hey … hey ..heyyyyyy"
oh my ..what this is it dream ..where I am ??…….well, I am in the detainees room …tha's what my eyes found when I opened them.
"Hey …hey stop dreaming and wake now….." a marine shouted at me …he was on the other side of the room (behind the grills).
"Wake the others and tell them it is time to eat …do it now ..now " he said to me loudly pointing his finger at my face …seems like order
" ok ..ok … " I said
it was 4:30 am ..I knew the time from the marine guy.
I woke up the other 4 detainees, including my brother …..when I found the chance to tell him some more words …..
The soldiers handed me the food bags …it is military food ….they used to take off some things from the bags …the take off …heating materials , plastic spoon ,and some things else…I couldn't recognize them .
Each detainee got one bag…
Frankly, the food is not good at all …..we can eat only some biscuits and cake ….
While we are eating we have very limited chance to say some words each to other ….such as whispers "from were they brought you?" and "Where is your family living and why they arrested you??" and so on …..
I found that all other detainees don't know why they had been arrested!!!!!
We sitting on the centre of the room. The room was vary dirty …and cold …we were freezing ….because air-condition cooling the room although the it was not hot…
By the way I found that electricity continues in the base for 24 hours ….it make a sense that the Americans take our services…..in my city electricity not found.
May be I have to explain why the time of eating is after 3am ….it because of Ramadan , Muslims in Ramadan are fasting (no eating , no sex , no drink and no smoking) during the day time …Ramadan is one month coming every year……I used to eat with my mother …she like me serve her and make juice for the family …I like do some kitchen works sometimes …..but I am not good in cooking at all
Anyway after we finished our food the marines shouted at me .."Everyone go back to his bed …and NO TALKING …..move now" he shouted and I told the other detainees what he said …..one of the detainees was funny ..he loved to make it funny …he did not move although I told him what the soldier said ..he just stay sitting and ignored the soldier shouting!!!
"Hey Othman ……what you dong …go your bed this soldier getting angry," other detainee asked Othman (the naughty detainee)
Othman ignored him too ….then he said "Just let me alone …I want him to be mad …just go." he said …signing by his hand to us, to go
Then Othman said to me "Qasem, Qasem …..if he asked you what it is the problem …tell him that I am a crazy man ok??? Just do that "
I surprised from that …but I will say what Othman asked me sure …..he seems like he going to do a funny thing I hope …..we need that
"Hey you ..english man …whats wrong with this guy ….he can hear me …he cant undertand you …?? ..whats wrong with him …..tell him if he did not move I will pull him to his bed now …tell him now" the soldier said to me, very angry
"No No …he can hear you …but he is crazy …he is not normal …" I said to the soldier
"Ok …ok …you pull him to his bed ..I don't want him to stay there …you move him anyway ..ok?? " the soldier said to me
I moved toward Othman …..well Othman did funny thing …he looked at me with scary eyes then he run to his bed suddenly …….oh my …he scared me when he suddenly jumped to his bed
The other detainees laughed when they saw this …….yeah all of us laughed deeply …..
Othman succeeded to make us laughing in this bad place ….it deserve thanks
Then Othman covered himself with the blanket and he kept his eyes looking at me …..and his body shaking …..he can be good actor!!!
The soldier keep his eyes on Othman ….well the soldier start laughing too, "Hey why he looking at U like this …….he seems scared of you" the soldier asked me
"I dont know …he seems strange …I am scared " I said
"No no ..you should not ….." he said
I did not reply to him
"Well …tell me were you learned English ……you were living in England before ?? or what ??" the soldier said asking me this boring question again !!!
"I learned English in college …here in Iraq " I said
"That's after the war ..right ??" he said
"No …I finished my study at 2000 …" I said
"Oh ..no .. that's impossible ..I heard that before the war it was not allowed to teach English in Iraq " he said …seems not believing me
"No …..in iraq we used to learn English as basic textbook from primary school and keep studying it until we finish college." I answered
"Realy ..I did not know that …it is good ….yeah that is good " he said
"You're Muslim right?? " he said
"Yes " I answered
"You Sunni or shiite ??" he asked me
"Well …I don't like this question ….it is a starting point for discrimination…" I said
"No .No ..I just used to meet Sunnis here …and I want to know you more that's all …it is long night and I want to keep awake up so I need to talk with somebody ….and it is interesting to talk ..it is first time for me to talk with detainee directly …." he said
"Well …I am Sunni ….." I said
"You said you finished your study in college …..where is your college …in Baghdad ?? " he asked me
"No ..it is here in Ramadi " I said
"There is college in Ramadi ?!!! Wow you surprise me ..sure ?? " he said
"Yes sure….and you in one of the colleges of Anbar university now …..this building is belong to Anbar university " I said to him pointing around me
"What …this building ….what you mean ?? " he said
"I mean ..your military unit is occupying University and most of high studies students lost there chance to study because of that along 2 last years" I said
"What building this one was …which college ?? " he said
"It was agriculture college …..this building is part of it " I said
"You know it …you studied here in this college?? " he asked
"No ..I studied in other college, on the other side of the city " I said
"Which one…I mean which college you finished your study in ??" he asked
"Engineering college " I answered him
"What kind of engineering ?" he asked
"Mechanical engineering " I said
He said "Oh ..it is very dangerous…so ..you can make bombs technology ?? "
"I studied about mechanics ..not bombs !!" I said
"But engineers can study about bombs and guns and make them…" he said
"Everybody can make them when he study about them and have enough meterial and sure desire to do bad things." I said
"Well …now I can imagine why you were arrested " he said !!!!
Alive in Baghdad internet video news project founder Brian Conley and Iraqi citizen journalist Omar Abdullah of the (www.AliveInBaghdad.org) will be on Reinventing Television, an interactive web video talk show hosted by Jonny Goldstein. There is an open phones segment, so audience members will be able to ask Brian and Omar about what it's like making Alive in Baghdad, what challenges they face, and what's next for the project. And audience members can text chat questions and comments throughout.
When: 10PM EST (7pm Pacific) Thursday, October 26.
How to watch: Log in to the video conference here
[Editor's note, this is a short post, but it reflects a simple event in the everyday lives of Iraqis living in Baghdad. We hope this will provide new insight into the lives of Iraqis in Baghdad.]
i entered the fuel station, and i drove my car into place behind 3 other cars, the first two cars were getting fuel and the third one was two meters behind them without a driver, the fuel station workers were checking the car (that i was three meters away from) and they shouted to all the cars and eveybody to go out because it's a bombed car!
i drove my car outside and i didn't know when it exploded, but my friend said that he heard the explosion at almost the same time i left the station!
The kidnapping, killing, all of those things became something usual to Iraqi people, everyday we hear about 30 to 50 people taken or their bodies found somewhere! The funny thing is that we hoped that Abu Sadiq at that moment is taken to be kidnapped not to be killed, that's because we can do nothing to stop what happened, because if we call the police, they won't come and help because they're afraid on their selves or may be because they don't care for us in Adhamya, if we tell the army they would question us and accuse us as well and they rarely do anything for the civilians (cause every time they say it's the police business not ours), and of course we can't shoot those kidnappers because we're afraid that they come back again or some of their associates and kidnap or kill one of us as well. Basically no body's protecting us, and the only way we could help our selves is by closing the streets so that no body can come into our streets , but for how long, we have to open it sometime !
Of course that made his family and us happy, but how will they get the 100,000 dollars, they are a middle class family, they don't have this amount of money. Anyway, they kept arguing with the kidnappers for 3 days, and in the meantime they sold everything they had in their house and their car and they borrowed money from their relatives, in the end, I guess that last amount was 400,00 dollars!
Anyway, the next day we were all of us at the mini-market asking about what happened, and did anybody called, 1 hour after that we checked "Sadiq" (Abu Sadiq's son of course) And he told us that the kidnappers called and they wanted 100,000 dollars, and they let Abu Sadiq speak to his family for a couple of minutes, you know at that moment we really felt good because they didn't kill him, especially after we knew that he talked to his family!
Abu Sadiq finally came back home, I hoped I could take some pictures for him after his accident, but I couldn't, I just hoped to show you what happened to him, his face was literally destructed , he barely could walk. It was sad, but you cannot imagine the look on his family face when they saw him came back home alive, they were all happy, and I think If he could express his feelings at that moment I bet he would've looked happy as well!
2 days after, we were standing all of us at the mini-market, (which is the only place we go to nowadays) and a friend of ours called Sadiq, sadiq told him that they're going to move from their house, why, because of a threat! That same gang threatened Abu Sadiq family and gave them 72 hours to leave their house. They claim that they're threatening Abu Sadiq's family because they're Shi'a family living in Adhamiya but they have no right to do that, because Abu Sadiq lived here for almost all his life!
Unfortunately, what happened is happened and we can do nothing, for me I just wish to have some giant microphone. And shout with the maximum volume that what those people are doing is wrong!
This is a Daily usual events happening these days, the problem is, we're surviving them once and twice, but we never know when will it be the end for us? May be in the 3rd time or 4th, we never know!
Just a week ago or may be less, my brother was walking in the main street just 500 meter away from our house, walking to come back home, when a bomb exploded to destroy an Iraqi Hum V. (that was only 100 meter away from my brother). The rest of the Humvees opened fire on the civilians who were walking in the street, thank god my brother run into a narrow st. once he heard the explosion!
[Editor's note: This is the rest of Qasem's first day under arrest…]
"ok, ok …it is clear that you got a good education because you have a good relationship with the Baath party ……right ??" he asked me ..and I was starting to be upset because of those silly bad questions
Well ….I noticed he is playing the game of Sherlock Holmes ….and he was smiling while speaking his silly questions………he found himself smart …..but the fact he missed is the fact he proved to me, that Americans were fooled by the 2003 Propaganda made to make the war seem to be just.
One of the soldiers handed the officer a very old photo of Saddam…he found it in my grandmother's room.
"Hey …do you know who is this ?? " the officer asked me with angry face while he showing the photo of Saddam.
"Yes sure …he is Saddam …you can find these old photos everywhere in Iraq ….it is not a big deal that you found one in my house " I told him …..
"What is better to you … Iraq during Saddam's control or Iraq after Saddam gone?? " he asked me this question and he seemed like he found good point to ask about.
"For me Iraq before the war was much better!!" I answered ….some other marines were interested by this silly conversation
"Oh …yeah …it is sure that you are very grateful to Saddam …he gave you a good education and a good style of life. You lost it when he was gone " he said that while looking around at his friends …giving the sense that he proved some thing important about me!!
"Wait a minute, sure Iraq now is worse than before the war …and sure my life became worse after the war …I have no rights at all …even if I am killed by you now …nobody will notice, there are no rules …" I said, upset.
At this moment …the officer got a call (by walkie talkie) …then he said,
"Do you use your computer to tell others about what is going in your area, in Ramadi?"
"Yes …I write a diary ..and blogs…..and I use my pc with internet connection to tell this to the world " I answered him …
"Well …..I think we have to arrest you …and any other adult males here ….you and your Brother will come with us …stop talking now…turn to the wall and raise your hands ….tell your brother to do so …..NOW " he said that …then 2 marines came behind us and searched us …then bound our hands behind our back …
My mother was shocked when she saw them bind our hands …..she said this words to the officer (in Iraqi)
"Please …leave one of them for me …I can't see both of them leave my life now…. I am losing my family …please leave one of them for me" she said while crying …and tears covered her eyes.
I stopped her, asking her to stop crying ….
"Mom …please do not beg them ….I can't see you do this …..we did nothing bad to arrest us …you know your sons very well …..just pray for us ….do not ask them ….ask God ………..we will be ok Mom …"
then my mom …keep crying but she stop sying any thing …she was looking to me …to my eyes …..she deeply was looking at me and my brother ….I can feel her …she feel that this is her last look at me and my brother ……..I smiled for her …and asked my brother to do the same ….we have to smile for her ….to remember us with smiled faces.
The officer said "CONTROL NOW" it was his order to the marines ….control means …stop them talking and blindfold eyes and no movement without their orders …..
The marines shouted on me "Tell your brother that ..from now no talking …no movement ….and look at the ground."
They blindfolded our eyes ..and started pulling us through the other room of the house ……
Held us, then uncovered our blindfolded eyes ….they took photos for me and my brother with the computer …..
Then take us out the house ….to the garden
They pulling us just like pulling cow ….one marine catches my right shoulder …and pulls me strongly ….it is very difficult to walk with this way …my eyes are blindfolded ..I can't see anything …I can't trust my steps …..
They were waiting for the tanks to come and pick us up to somewhere.
Notice : later we knew that the houses that surrounded my home were occupied by snipers …and the families were kept inside for 10 hours in one small dark room.
The Marines got orders to take us to their closer base by walking …..we pulled and walked for more than 700 meters ………oh …they took us to occupied house …I can imagine our steps map …..directions …..the house was just beside the Mosque ….they put us inside dark hot room ….and 2 marines stay guarding .
it is about 3:30 am …I was sitting on the ground ….and hearing sound of big generator …..very noisy
One marine talked to me
"You speak English …right ??'"
"Yes" I said ….after he made me notice that he talking with me by putting his finger on my head
" I like to talk with you …it is the first time for me to meet a prisoner who can speak English" he said ……I kept silent.
"Why are your people killing Americans …we came here to make Iraq a good civilized country? " he said.
"I did not see any civilized thing happened in Iraq made by Americans …..tell me why you came to Iraq …sure you have a reason to fight in Iraq and risk your life and use your guns??" I asked him.
"Your people started the killing …when they helped the terrorists to attack the twin towers in New York on 9 /11 …..many civilian Americans were killed because of that ….we were scared ..so that we have to stop those bad terrorists before they do it again " he answered.
"But Iraq had no relation with this at all " I said
"No ..you're wrong …Iraqis helped the terrorists ….we know this ..so then we came here"
"Sorry ..I have to say that you're wrong ……your Congress made sure that you have wrong information ..and Iraq has no bonds with Terrorists crimes ….." I said
"Well ….my job is a soldier ..I am not a politician …my job is killing and arresting terrorists that are hiding in your town" he said
"Do you think I am terrorist ??" I asked him
"Well …military intelligence will make sure ….I do not know …" he said
"Why Americans wasting Billions in Iraq to make enemies ….they can use them to make friends and peace ??" I asked him
"No … we have friends in Iraq ….our friends are giving us the needed information that help to arrest the bad people such as you" he said
"Me ??!! ….You just said now that you are not sure if I bad or not …but you seems sure now " I said with surprise
"I am sure that you are here for a real reason " he said
"I will tell the main reason ….it is because marines found a computer in my house and because I write blogs in english for peaceful Americans " I said
"So ..you have ability to make websites for terrorists …that makes you more suspected " he said
"What is your job?? " he asked me
" I was engineer …now I am jobless " I said
"Wow ….what kind of engineering work ?? " he asked
"Basically I am a mechanical engineer " I answered
"That means you can make bombs and improve guns for terrorists …yes ..sure you did so" he said
"Hey hey …wait….you judge me because I am mechanical engineer ?? what you will think if you knew that I worked in construction field ..and I have good experience in civil engineering and buildings ??" I said
"That's more worse ….you can make maps of the streets and the places and give it to the terrorists " he said
"So engineer is very suspected person for marines ?? " I asked him
"Mostly yes ….they can do many things that help terrorists " he said
"Ok …I have friend whom arrested few months ago ……he is doctor…..do suspect doctors too " I asked him
"For sure….terrorists could be injured during fighting us ..and sure there are doctors who take care of them and provide them with medical help" he said
"Let me tell you this …..you suspect educated people ….and arrest them because they are doctors or engineers …so, shall I believe that you will help Iraq to be civilized country ???!! " I said
"You should believe this …..in your city there are terrorists ….and we are here to kill them …..yesterday, my friend was injured when we got mortar attacks here in this house ….and he lost his hand …..for sure there is a fucking Iraqi engineer drawing a map for terrorists and help them to attack us and cut my friend's hand ……" he said ..he seems getting upset
"Now stop talking ….." he said to me ….
Then another soldier came ….he gave us water bottles …I can't drink …my hands still bound behind me and my eyes blindfolded …a marine soldier helped me to drink …just like baby, and help me to eat 3 pieces of biscuits, just like bird, I ate from his hand. I have no choice and I have to eat for the next unknown day, it is Ramadan and fasting will start next few minutes …and will keep for all the next day.
At 8: 20 am …..the sounds of a tank came to the house…..then two soldiers pulled me and my brother to get out the house and pushed us to get in the tank ….noisy tank !!!!
Any tanks have rear gate …..the marines put us on the parallel to the rear gate …..it is the most dangerous seat inside any tank ….because the weak point of the tank is the rear door ….
The tank moved ..and I was very careful to feel the directions …turning to left and right …and kept going on ……and there was sand sprayed inside ……yes I know the way now….we are on the way to the Agriculture College building that belong to Anbar university ……it is occupied by US troops for the last 2 years
When we reached there at 8:20am …marines pulled us out of the tank …and gave us a chance to sit on long seat …wooden seat …..then another two soldiers came and took us to a small room that was for medical checkup ……medical checkup is not to make sure that we are ok or not ..but basically to make sure if we are wanted (wanted list) by eye stamp and finger stamp ….and find out if there is old injures caused by fighting or guns
They found that me and my brother are clean …it means not wanted
They made sure about this after make the checkup …that we take off all our clothes during it ….NAKED
By the way…the most question that I used to hear it was "how you learned English ??" and the marines medical team asked me this too
After medical checkup we felt that the situation because less painful ……yes because our hands released and no blindfolded eyes here …it is jail now…Unit jail…
Can you imagine…how much it is painful when your hands are bound with sharp plastic tags…..and blindfolded eyes with Kaffiyah (Arabic cloth use for head cover for men) tightly along 7 hours in hot summer …..???
I felt my hands were dead when they released them …
I remember that I read about Jill Carol ( American journalist hostage ) …for me my case is more painful ……
Two marines took us to our new jail room ….we were walking and the 2 soldiers walking with us pointing there guns to us……it was clear that there guns were different ..it was sniping guns!!!! …later I noticed that this unit is a sniper unit.
They put us in the room ..the room was divided to 2 parts by wooden grill and gun wires from the prisoners room part …and it was very cold…no windows …one door….and 2 air conditioners sets ….very old air-conditioners …I think they belong to the Anbar university …..
The room was about 8 meters in length, 5 meter in width ….. and there is more than 15 military beds …made from Aluminum ….it was very cold room ….I am freezing
When me and my brother got in …..the guard soldier told us to take 2 blankets ..and sleep on beds …and NO talking at all …there was 3 other Iraqi detainees …young men from Sofyiah area in Ramadi
I am really sleepy…..it was a hard night …and I am exhausted almost …..my clothes became very dirty …full with sand …because most of the time we forced to sit-down on the ground .
Ah …by the way …after medical checkup ….the soldiers installed small paper on my shirt …from the left shoulder side ….my brother same …this paper include this English writing:
Serial number of detainee : 4814403
Unit of capturing : c/1-60N
Location of capturing : m 27
Time and date of capturing : 9:00 am 27 September 2006
Name of detainee : qasem ……….
After period of deep sleeping …a soldier woke me up ….sure behind the wooden grill wall and gun wires …..he shouted "Hey you …english man …wake up ,wake up .."
He asked me to wake up my brother …the officer wants him …
I woke up my brother …..and I used this chance to talk with him with short words. I told him …that he should not be afraid at all ….we are innocent ..do not let them scare U with their silly questions …ok??
He said ok ..I understand
A soldier took my brother out the room ( jail ) ….
After one hour he came back …..I can't talk with him …so I did not know what questions he got
"Hey …now it is your turn …come here " a soldier said to me ….pointing me to come to him ….
He took me to the next room …it was empty …there is only old Iraqi rusty metal bed and small piece of dirty sponge on the ground ……well it was my seat as the soldier show me to sit down and wait with out talking ….
I sat down …and wait …..after few minutes …and Marines young officer got in and Iraqi interpreter with him
The rusty metal bed was in the center of the room …it was the American seat that it is in front of me …face to face….but I am sitting on the ground ….he sitting on the bed
He start his questions…..about fighters …names and locations ….what they planning now …..and many specific questions concerned the fighters
I explained for him that I have no relation with anybody carrying weapon ….
He tried to scare me when he said that my his soldiers found CDs and videos that represent propaganda for terrorists …and he said that my computer full with writtens that threat US troops !!!!
For me his way is very cheap …he making lies about my computer …it means that he have nothing real against me as evidences…he just want to scare me ….
After spending one hour with in this room with many silly questions …the officer said…..
"ok ..now you will go to your room ( Jail ) and think deeply about your future…in case you did not help us you might miss the chance to go home again " he said that ….then he get out the room …and the interpreter took me with 2 marines soldiers back to the jail room.
In the room …..as I told you before there is 3 other detainees from Sufyia ….as they told me their arresting operation was too scary …there house attacked with SONIC hand bombs after midnight …and they did not know why they arrested yet !!!!
Talking was not allowed sure..but sometimes we have the chance to exchange few words during eating …and during the 2 marines (guards) talking with their friends in the unit …..
I noticed that this marines unit included many snipers ….I noticed there machine guns …..it sniping guns.
Every 6 hours the 2 guards exchange position with 2 other soldiers ..
For my first day I couldn't talk with any of them …..they did not give me the chance …..in addition I spent most of my first day by sleeping deeply ….it was cold room and quiet and I were very tired …so the best choice is sleeping….
25 September 2006
For the last 2 days…..many people were killed by US snipers in Qattanah sector, it is the central houses in old Ramad.
It is known that there are US snipers in the building of Ramadi museum in addition to snipers in the Passport building, general library and some other buildings near them….
Those snipers found to prevent civilians from use the main street in Ramadi….in addition to killing anybody who is moving around the buildings….
Oh my ……sorry, I could not finish 25 September 2006, I was arrested by US Marines
27 September 2006
The beginning of this day is at 1 am while I am chatting with peace friend from Mexico, this friend is warry about my nephew and she asked me about my family and the situation here…..this friend is important to me, we used to chat almost every night, and she was trying to charge my soul with peace, at the time that I needed reasons to be peaceful …and to stop myself from losing peace.
During this chat I had a problem in my pc, something was wrong… I lost the control on my computer ….so that I asked her to wait me for 20 minutes to restart my pc again….
While the computer was getting restarted, I heard sound of destroying my house gate……
My brother came upstairs to my room.
"Qasem, Qasem…..Americans are crushing the doors!!!!!" my brother shouted to me in fear…
"Ok, ok, I am coming, I am coming. Wake up the family and don't turn on any light or shutdown any one…..I am coming now " I said and I ran down stairs in a hurry….
I saw the marines in the garden and they were holding my father and grandmother ….
"Hello ,helloo …..I am speaking English ……we are peaceful family……" I said to the marines in clear voice and words …through the window
" hey show ur hands and halt now " a marine shout on me …
I raised my hands and freeze in my location….
The marines soldiers spread out in the garden and kicked 2 doors and many of them went in the house
"You are who speaks English ….right ?? " one of the Marines said to me.
"Yes I am …whats wrong ??!! " I answered with surprise …..they know that I speak English!!
Marines surrounded me, then, the officer ordered me to bring all the family here ..in the main room(the living room).
I did this with 2 marines following me…I woke up my brother and 2 sisters and Rahmoon (my nephew) and his mother and his baby sister, Rahmoon and Aia were sleeping peacefully, they seemed like 2 Angeles. I carried both of them to the livingroom.
Then the marines spread out inside the house …..downstairs, upstairs and everywhere in addition to the roof.
They where searching for something and I did not know what it was until I asked the officer, he said that they were looking for bombs and guns …
Till now that is usual, we used to get this bad experience with Marines inspections ….but this time they were acting more roughly….
The officer started asking me question…..he asked me, "Who is this …this and this …….etc," pointing to each member of my family
I answered …..he is my father, mother and brother …sister …nephew …etc
"How old are you??" he asked me
"30 years old …" I answered him
"How did you learned your English??" he asked me looking at me, eye to eye
"In college," I answered.
"So you are Baathist ?? " he asked me with a cold face
"No I am not …..!!! " I said
"Hey….only Bathist got higher education and speak many languages…before Saddam gone " he said …he seems like don't believe that I am not Baathist.
"Nope believe me….everybody in Iraq can get free higher education in Iraq …not only Baathists …ask anybody, you will get this answer!!!" I said, explaining to him
At the time, a marine came carrying old small photo for Saddam …he got it from my grandmother's room.
The officer raised the photo and turned it to me …to show me it and said, "You like him ….right ??"
"Like him or not !!!!! …is it a problem for you?? " I answered him.
"Did you served in Iraqi Army…..I mean Saddam's Army ??" the officer asked me
"Yes I did " I answered
"How many years U served there ??he asked me quickly
"Less then 2 years," I answered
"What do you know about Fedayeen*?? " he asked me
* Fydaeen : it is military group fomed by Uday (Saddam's son), it is specialist fighters ready to fight until death for Saddam.
"I don't know alot …it is know as fighters working for Saddam and nothing else" I said
"What do you think about America …is it good or bad ?? "he asked me
"All that I can say for a clear answer is, America did wrong things in my city …"
I answered him with surprise…..he trying to make me say words as enemy for united states !!!!
"You believe that Saddam was good man ??" he asked me ….
"I believe that there is people better than him in Iraq," I said…..I know it is wild answer ,but I am trying to avoid some words that make the officer use them against me ….
"When and where you learned English ??" he asked me
"During 1990s in college " I said
"Hey, hey ….English was not allowed during Saddam time" he said .
"No …it is normally to study English in Iraq schools for the last 70 years…
It was the second time I see my father shocked as he was, the time after my uncle was killed, it was because one of his best friends , a doctor, a professor of mine, with my dad in the college and hospital, he was killed! It was a moment, I will never forget, because the only thing I was thinking "is this a dream?" I just wanted someone to wake me up! My mind couldn't and still can't bear the idea that I was just talking to both of those men just days before they died and they were full of life! I stood there, recognizing the Reality of this Dream, and my mind was in a total black out, I didn't really care for anything at that time, I was just thinking of one thing, what's going to happen to us after this?
The Most Sad Part of All, is that we can do nothing but move on with our lives, we got used to everything, I didn't imagine that in one day my uncle would be killed, and then a week later I would speak normally as if nothing happened! Am I unfaithful to his memory? Is it because we can do nothing? Is it because the killing, kidnapping, and assassinations happen more and more that we feel nothing toward all of these?! I don't know what happened in my life that triggered this series of events, but it just happened. And a couple of days after My Father's Friend was killed, My Mom's Uncle was Kidnapped on his way home, He's not rich, He's not into Politics, so why was he kidnapped ?
After we knew he was kidnapped, 2 hours later, his family called us and told us that he came back safe! It was pretty much surprising to hear that, because we always hear about people got kidnapped like him and never got back home, they found them dead somewhere outside Baghdad city! Of course We asked him what happened, he said some armed people stopped him on the road and asked him about his Religious Denomination, it was obvious they were militia men those kind of men who kill the opposite Religious Denomination, once he answered them, they put him in the trunk of his car, He heard them talking about killing him like they did to 4 others earlier that day! And then they took him with the car, He struggled and un-tied him self and kicked his way out of his car, and ran to a farm!
You can imagine listening to those people and they're saying they're going to kill you, what will you do, I think I know the answer now, because I saw a 65-year-old man doing the impossible to get his freedom and life back! Two days after that He rented a car to get him and his family outside Iraq! After the Occupation, the situation has become so much worse and is still getting worse, so now everyday we hear in the news about some people being kidnapped and then found as dead bodies hours after that, but I just didn't imagine that it would be this close to me, as it happened to my mom's uncle and Just Days Ago to our Neighbor!
I was separated from the last incident by a few minutes and meters only! It happened in the Afternoon, I was going to a mini market near to our house walking.I did the shopping and I was going back home where I saw "Abu Sadiq" (our Neighbor) watering his outside garden, I said Hello and he said hello back to me! I walked home and entered to our house, and just after that I heard some men shouting, when I walked out of the house I found people in the street standing and said that Abu Sadiq got kidnapped!
[Editor's note: Due to the nature of the content of this entry, I'm posting it without the usual grammatical and spelling checks that I usually do for Qasem's entries. I'll look it over for content tomorrow and clean this up.]
At 27 September 2006 US marines get in my house at 2:00 am ( 2 hours after midnight ) …the inspected all the house specially my room ..and destroyed furniture ……..they asked me about my computer ….it seems they already know about it …they asked me to operate it and show the hidden files….and details
Then they asked me many questions such when and how I learned English and personal questions also …about me and my life and job.
Then they arrested me and arrested my brother too.
The moved us by walking with fixed hand and folded eyes to civilian house used by them as military base ,,,, I know that because the put me inside room and take opened my eyes .
Then they took us to there unit base ( C/1-60 N ) it is marines base.
We stayed there for 2 days then they moved us to jail of Ramadi that it is found inside main marines base ( Near Blue Diamond Palace ) .
In jail I found that Military intelligence of US army printed out my blogs from my computer and they read it all and wrote their notes about it, and I received many questions concerning my blogs…..they think that they found useful information ..and they want more from me …
Generally marines hated my blogs ….and they accused me of many things without any evidence ..for instance they accused me that I represent threat for security and the evidence that they used is my blogs !!!!
I stayed in jail for 12 days …and I performed peace activities to push them to release me as soon as possible…on of the activities was claiming them for list of my rights …..but they did not show me my rights, they just told me what an Occupying power has the right to do in a security theatre.
Inside jail I saw my nephew ….he was put in same conditions as adult prisoners, in the same room and treatment ….I couldnot talk him at all …..Talking is not allowed for all prisoners (NO TALKING).
One of military intelligence officers told me that he like my blogs although he believe that it is show only bad side of US troops.
In Jail there was good marines and bad bad Marines also …some of them hate me because I understand their bad words for the prisoners …and I asked the officer in the jail to stop them saying bad words for prisoners some of them liked me ….and one marine soldier asked me for my email address …he like to be in contact with me as friend…he said " U will be my first Iraqi friend "
Inside Jail there was many old men, more than 60 years old, and they treated same as others ….some of them have no shoes-their feet were naked-because they were arrested while they were sleeping in their houses .
The main purpose for arresting me was to make sure that I am not writing my blogs to support insurgency …..and marines made sure that I have no relation with any Iraqi carry weapon against US troops.
I was released at 7 Oct 2006 at 7 am ( morning ).
Now I am have to say, not only peaceful Americans reading my blogs but ….US marines reading it more than anybody else …..and the Military intelligence of US army think that it is important for them to see the daily life of HELL ( hell = Ramadi ) as one of them told me .
Thanks peace friends….now your comments will be read by US marines too …my blog is not for only peaceful people any more…..there marines whom join us to exchange ideas ….and I thing that could give good support for peace when some of people whom carry weapons exchange ideas with peaceful people ..
Thanks
[Editor's note: I was interviewed recently by Robert Millis of www.americanmicrophone.com . Please check out this interview and look into his website. He has done a good number of interviews now, focusing primarily on the domestic impact of the Iraq war, interviewing veterans and others.]
American Microphone welcomes Brian Conley to the studio. He is the creator and coordinator of the Iraqi video news blog, "Alive in Baghdad". We discuss his travel to Iraq and the challenges his Iraqi correspondents face.