Today Brad Will was killed in Oaxaca City Mexico. The exact details are still somewhat sketchy. Apparently he was killed at the Santa Lucia Barricade. Whether he was killed by government agents, federales, local police, or some kind of PRI militia remains to be seen.
Brad travelled much of South America in his 36 years and was dedicated to publicizing Peoples' struggles in the Global South. Brad was also an independent journalist and a strong voice for independent media.
I was shocked today to hear that he was killed in Oaxaca, where I plan to be heading in the next few weeks.
I'll miss him greatly.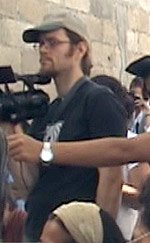 Here is the best story I've read, so far, about Brad.
Thank you Al Giordano.